Surfactants & Emulsifiers
ABITEC Corporation manufactures nonionic surfactants for metalworking fluids and water-based lubricants.  Our line includes coconut based ethoxylates, which can be helpful when extra lubricity is needed, as well as surfactants based on castor oil.  We manufacture ethoxylates, propoxylates, EO/PO block polymers and esters, such as PEG esters, at our plants in the USA.  We can manufacture these products in LTL quantities, which is especially beneficial if you are launching new products.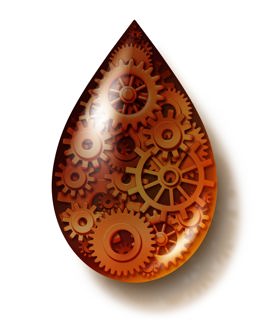 Featuring Acconon EMG
A unique emulsifier specifically designed for metalworking fluid manufacturers looking to formulate semi-synthetic or soluble oil type fluids that are based on vegetable oil. It is designed to overcome the emulsification challenges inherent with canola or soy. Contact us right away if you would like to receive a sample and information about Acconon EMG.
Additional Available Products
ACCONON® Nonionic Surfactants & Emulsifiers
ABITEC Corporation has more than 50 years experience manufacturing nonionic surfactants at our plant in Janesville, WI. In addition to functioning as excellent water/oil emulsifiers, many of these products can add lubricity to a wide variety of water-extendable metalworking fluids. Our line includes coconut and castor oil ethoxylates and PEG esters.
| | |
| --- | --- |
| Product Name | Product Description |
| Acconon CA-5 | Polyoxyethylene 5 castor oil |
| Acconon CA-40 | Polyoxythylene 40 castor oil |
| Acconon CO-5 | Polyoxyethylene (5) coconut glycerides |
| Acconon CO-7 | Polyoxyethylene (7) coconut glycerides |
| Acconon CO-30 | Polyoxyethylene coconut glycerides |
| Acconon 400 MO | PEG 400 monooleate |
| Acconon 400 DO | PEG 400 dioleate |
| Acconon PSTO-20* | Ethoxylated sorbitan ester |
*Developmental
ACCONON® is a registered trademark of ABITEC Corporation.  All information and statements given on this website are believed to be accurate at the time of publication. However, neither ABITEC Corporation nor any of their affiliates make any representations or warranty with respect thereto, including, but not limited to, any results obtained in the processing of the products by customers or any third party. All information and statements are intended for persons having the required skill and know-how and do not relieve the customer or user from verifying the suitability of information and statements given for a specific purpose prior to use of the products. It is entirely the obligation of the customer or user to comply with applicable laws and regulations, and also with all patent or other intellectual property rights of third parties. ABITEC CORPORATION EXPRESSELY DISCLAIMS ANY REPRESENTATIONS OR WARRANTIES OF ANY KIND, WHETHER EXPRESSED OR IMPLIED, AS TO THE ACCURACY, CURRENCY, COMPLETENESS AND/OR THE MERCHANTABILITY OR FITNESS OF A PARTICULAR PURPOSE OF ANY INFORMATION CONTAINED ON THIS WEBSITE AND/OR PRODUCT DESCRIBED OR PROMOTED ON THIS WEBSITE, INCLUDING WARRANTIES WITH RESPECT TO INFRINGEMENT OF ANY PATENT, COPYRIGHT, OR OTHER RIGHTS OF A THIRD PARTY. We reserve the right to change product specifications and specified properties of the products without prior notice.