SENDS™: Sistema de dispensación de productos nutracéuticos autoemulsionantes
¿Sus nutrientes llegan a destino? Muchos suplementos contienen varios ingredientes destinados a ofrecer determinados beneficios para la salud, como la salud de los huesos, el consumo diario de vitaminas, la concentración o el aumento de energía. Los fabricantes de suplementos seleccionan los ingredientes adecuados en función de los beneficios, pero, algunas veces, hacer que esos ingredientes lleguen a la zona correcta del cuerpo y garantizar que se absorban puede ser difícil. ¡Allí es donde entra ABITEC! Los productos de ABITEC mejoran la solubilidad y promueven la emulsión de los ingredientes activos de los productos nutracéuticos (ANI), lo que genera una mayor biodisponibilidad. Incluso contamos con un sistema para asegurarnos de enviar los nutrientes para su absorción.
La solución SENDS
El sistema de dispensación de productos nutracéuticos autoemulsionantes (SENDS, por sus siglas en inglés) de ABITEC es un método de formulación mediante el cual los compuestos con poca solubilidad en agua pueden disolverse y, posteriormente, absorberse. Ofrece muchos beneficios para sus formulaciones, que incluyen:
Mayor biodisponibilidad
Mayor eficiencia de la formulación para reducir la dosis
Protección del ANI durante el procesamiento o la fabricación, y en el entorno gastrointestinal
Menor efecto alimentario
Se puede usar en formas farmacéuticas líquidas o sólidas
Cada sistema SENDS está personalizado para satisfacer sus necesidades respecto de las formulaciones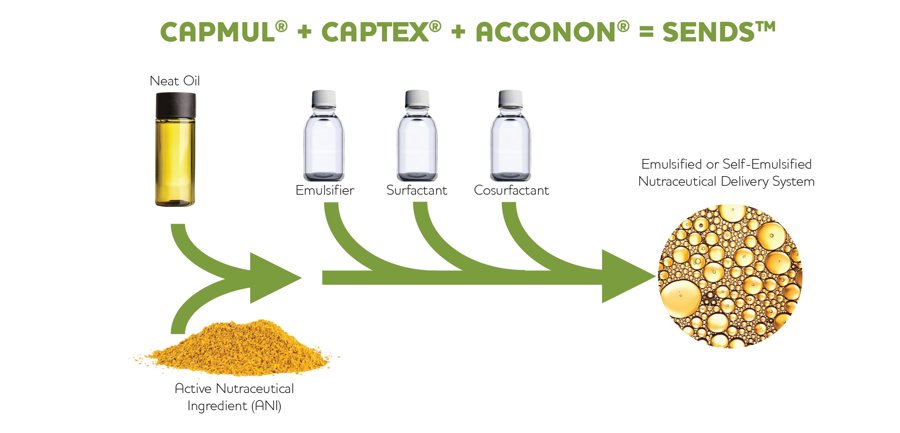 A typical SENDS system will consist of a solubilizer, an emulsifier, and a surfactant and/or co-surfactant. For the nutritional space, ABITEC supplies a portfolio to support SENDS formulations:
CAPTEX®

 

-

 

Solubilizers
CAPMUL®

 

-

 

Emulsifiers
ACCONON® - Surfactants
These product families can be used alone as a neat solvent or together in the formulation of self-emulsifying systems to ensure your nutrients reach their destination and are properly absorbed by the body. In addition, a SENDS formulation can reduce the amount of ANI necessary, and thereby reduces the dosing cost of the ANI in the supplement.  
Related Products
CAPTEX®
CAPMUL®
ACCONON®
CAPROL®
CAPMUL®, CAPTEX®, CAPROL®, ACCONON®, and STEROTEX® are registered trademarks of ABITEC Corporation. All information and statements given in this brochure are believed to be accurate at the time of publication. However, neither ABITEC Corporation nor any of their affiliates make any representations or warranty with respect thereto, including, but not limited to, any results obtained in the processing of the products by customers or any third party. All information and statements are intended for persons having the required skill and know-how and do not relieve the customer or user from verifying the suitability of information and statements given for a specific purpose prior to use of the products. It is entirely the obligation of the customer or user to comply with applicable laws and regulations, and also with all patent or other intellectual property rights of third parties. ABITEC CORPORATION EXPRESSELY DISCLAIMS ANY REPRESENTATIONS OR WARRANTIES OF ANY KIND, WHETHER EXPRESSED OR IMPLIED, AS TO THE ACCURACY, CURRENCY, COMPLETENESS AND/OR THE MERCHANTABILITY OR FITNESS OF A PARTICULAR PURPOSE OF ANY INFORMATION CONTAINED IN THIS BROCHURE AND/OR PRODUCT DESCRIBED OR PROMOTED IN THIS BROCHURE, INCLUDING WARRATNTIES WITH RESPECT TO INFRINGEMENT OF ANY PATENT, COPYRIGHT, OR OTHER RIGHTS OF A THIRD PARTY. We reserve the right to change product specification and it specified properties of the products without prior notice.