Fusogenic Cubosome Lipid Nanoparticles for the Delivery of Biologics
10/13/2022 - 10/13/2022

In this webinar covered a brief overview of ABITEC's products and capabilities, then focus our discussion on Fusogenic Cubosome Lipid Nanoparticles for the Delivery of Biologics.
Biopharmaceuticals, including protein, peptide and RNA-based therapeutics and vaccines, represent the fastest growing class of new pharmaceuticals with application as treatments for auto-immune disorders, cancer and cardiovascular disease.  Lipid-based nanoparticles, such as cubosomes, act as sophisticated delivery systems for biopharmaceuticals, able to ensure controlled release of these bioactive compounds as well as protect the encapsulated therapeutic from denaturing processes such as enzymatic or acidic hydrolysis.  The research presented aims to elucidate the fundamental physicochemical interactions between lipidic nanomaterials, encapsulated proteins and peptides, and cells.  Uptake of cubosomes into eukaryotic cells and gram-negative bacteria is shown to be driven by a process of membrane fusion between the lipid bilayer that makes up the nanoparticle and the external cell membrane.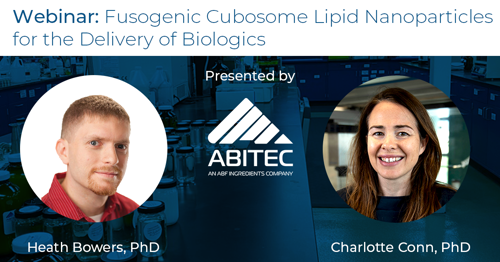 This LIVE event has already taken place
Fill out form below to access the recorded version of this event and receive a copy of the presentation.
Webinar Speakers
Charlotte Conn, Ph.D.
Professor of Chemistry
 at the 
School of Science at RMIT
Charlotte Conn is a Professor of Chemistry and a 2017 Vice Chancellor's Senior Research Fellow in the School of Science at RMIT. She received BA and MSci degrees in Natural Sciences from the University of Cambridge in 2002 and a PhD in Biophysical Chemistry from Imperial College London in 2007. Her research interests focus on the development and structural characterisation of advanced lipid-based nanomaterials using high-throughput experimentation, advancing our understanding of the interactions of these materials with a range of cell-types, and the application of these materials in the delivery of protein, peptide and RNA-based therapeutics. She is world-leading in the use of synchrotron radiation for the characterisation and development of advanced soft materials for biomedical applications and was appointed to the Australian Synchrotron BRIGHT Scientific Advisory Committee in 2018.
Heath Bowers, Ph.D.



North American Technical Business Director, Pharmaceutical Sciences
ABITEC Corporation
Dr. Heath Bowers has over 11 years of experience in the lifescience industry and is currently responsible for developing ABITEC's lipid excipient business in North America. Prior to ABITEC, Heath worked at GE Lifesciences assisting customers in the purification of biological molecules and at VWR, LLC as the leader of the research and development team in VWR's Solon, Ohio site.  Heath holds a Ph.D. in Biochemistry from Case Western Reserve University.
Questions or issues with registering for the webinar, please contact
Jordan Wider - [email protected]