Lipid Formulation Made Easy with ABISOL™
11/08/2023 - 11/08/2023
During this webinar, ABITEC demonstrate how the ABISOL™ Emulsion Preconcentrate Kit addresses the drawbacks of lipid formulation and makes formulation easy.
Drug solubility and bioavailability continue to be significant challenges for scientists. Almost 80% of new chemical entities and pipeline drugs exhibit low solubility. While lipid formulations can address both these challenges, creating viable lipid formulation can be time consuming and tedious.
Key Learning Objectives
Advantages of lipid formulations
How the ABISOL™ kit addresses lipid formulation complexity
Lab case studies with the ABISOL™ kit to generate innovative formulation concepts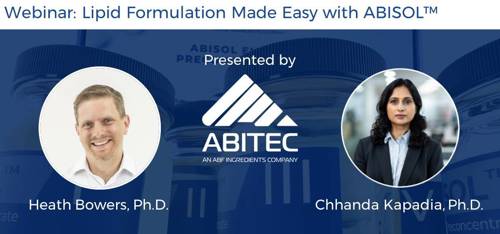 This LIVE event has already taken place
Fill out form below to access the recorded version of this event and receive a copy of the presentation.
Webinar Speakers
Chhanda Kapadia, Ph.D.
Technical Director, APAC Pharma
IMCD Group
A PhD (Tech) in Pharmaceutics from the Institute of Chemical Technology, Mumbai, Dr. Kapadia comes with more than two decades of experience in academia and industry. Prior to joining IMCD, she was associated with Gattefossé India Pvt Ltd and the Bombay College of Pharmacy. She holds strong experience in working with lipid-based drug delivery systems with international publications and patents to her credit. Additionally, she is associated as a visiting lecturer and examiner for postgraduate students at the Mumbai University
Heath Bowers, Ph.D.



North American Technical Business Director, Pharmaceutical Sciences
ABITEC Corporation
Dr. Heath Bowers has over 11 years of experience in the lifescience industry and is currently responsible for developing ABITEC's lipid excipient business in North America. In this role, Dr Bowers assists formulation scientists in the development of lipid-based drug delivery systems like SEDDs, LNPs, and Cubosomes. Prior to ABITEC, Heath worked at GE Lifesciences assisting customers in the purification of biological molecules and at VWR, LLC as the leader of the research and development team in VWR's Solon, Ohio site.  Heath holds a Ph.D. in Biochemistry from Case Western Reserve University.
Questions or issues with registering for the webinar, please contact
Dr Heath Bowers - [email protected]