Antimicrobial Lipid Technology: From Biophysical Characterization to Medical and Agricultural Applications
08/19/2021 - 08/19/2021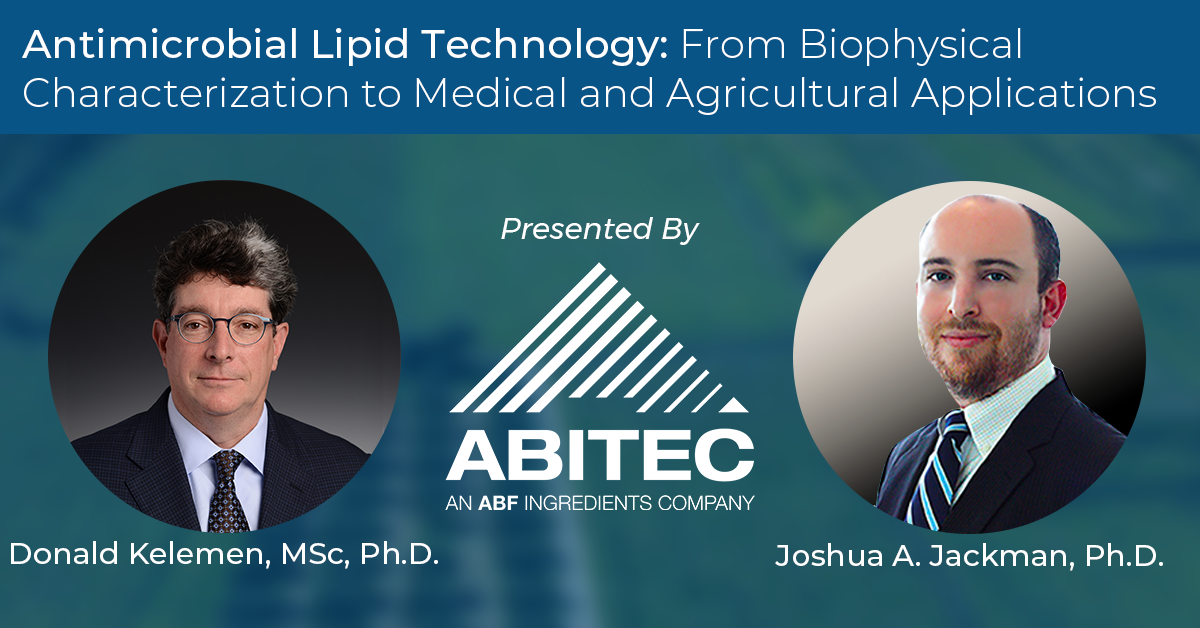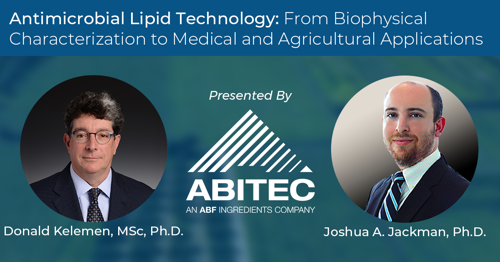 In this webinar we will cover a brief overview of ABITEC's products and capabilities, then focus our discussion on Antimicrobial Lipid Technology: From Biophysical Characterization to Medical and Agricultural Applications
This LIVE event has already taken place
Fill out form below to access the recorded version of this event and receive a copy of the presentation.
Webinar Speakers
Joshua A. Jackman, Ph.D. 
Assistant Professor
School of Chemical Engineering
Sungkyunkwan University
Prof. Joshua A. Jackman is an Assistant Professor in the School of Chemical Engineering and Biomedical Institute for Convergence at Sungkyunkwan University (SKKU) in South Korea. He leads the Translational Nanobioscience lab, which is focused on characterizing the interactions of biomacromolecules and nanomaterials with biological systems and translating scientific insights into engineered solutions to address outstanding needs in medicine, biotechnology, and agriculture. Key research areas include biosensor development, interfacial science, and biophysics. His team also develops pharmaceutical drugs and nanomedicines for infectious disease, cancer, and immunology applications, especially lipid nanoparticle technologies.
Prof. Jackman has published over 120 papers in top scientific journals, including Nature Materials, Nature Protocols, Nature Communications, Chemical Society Reviews, and the Journal of the American Chemical Society, and filed 8 patents, several of which have been licensed commercially. He has developed brain-penetrating antiviral peptides that can treat viral infections in the brain as well as antimicrobial lipid technology for healthcare and agricultural applications. He has also been awarded fellowships from the Arnold and Mabel Beckman Foundation, Howard Hughes Medical Institute, National Science Foundation, and American Liver Foundation, and was named an ACS Nano Junior Fellow.
Before starting his faculty career at SKKU, Prof. Jackman was a Postdoctoral Scholar in the Division of Gastroenterology and Hepatology at the Stanford University School of Medicine. He earned his B.S. degree summa cum laude in Chemistry from the University of Florida and his Ph.D. degree in Materials Science and Engineering from Nanyang Technological University, where he was a recipient of the Nanyang President's Graduate Scholarship and MSE Doctorate Technopreneur Award.
Donald Kelemen, MSc., Ph.D.
Head of Global Pharmaceutical Business Development
ABITEC Corporation
Dr. Donald Kelemen is the Global Business Director for Pharmaceutical Sciences at ABITEC Corporation. In addition to this commercial role, he also maintains responsibilities in the areas of new product development, establishment of academic and industrial collaborations and external technology assessments. Dr. Kelemen has active research programs focused in the areas of next generation lipid nanoparticle technologies and the functional assessment of neutral and polar lipids to address the global challenges of antibiotic resistant microorganisms.
Prior to ABITEC, Dr. Kelemen was the Vice President of Corporate Development at Gennova Biopharmaceuticals where he led the development of strategic and investment initiatives in support of  clinical and commercial programs focused on monoclonal antibody and vaccine therapeutics. Dr. Kelemen was also the Director of Business Development for PATH-Malaria Vaccine Initiative where his business and scientific capabilities helped support the development of next-generation malaria vaccines.  
Dr. Kelemen obtained his undergraduate degree in Organic Chemistry from University of North Carolina, Chapel Hill and his MSc.  and Ph.D. degrees from North Carolina State University in Nutritional Sciences and Biotechnology.
Questions or issues with registering for the webinar, please contact Amanda Coulter - [email protected]