Functional Beverage
Functional beverages typically come with added ingredients such as herbs, minerals, vitamins, or amino acids, to boost nutritional value. ABITEC's ingredients can add sustainable nutritional benefits and improved functionality to your functional beverage portfolio.  
Formulating CBD into your beverages?
Struggling to keep CBD in solution and provide controlled and consistent dosing?
Struggling to keep CBD emulsified in your beverage?
Struggling to increase the concentration of CBD in your beverage?
We CAN HELP!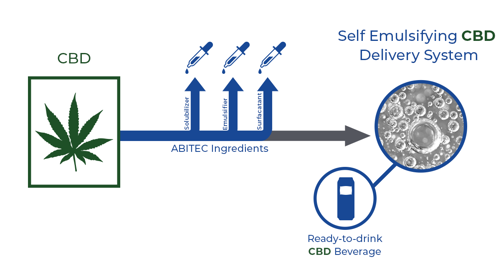 Related Products
NUTRI SPERSE®
NUTRI SPERSE lipid powders deliver up to 73% fat content from a wide range of healthy oils, including medium chain triglycerides (MCTs), canola, and high oleic sunflower. All of our oils are low trans fat, non hydrogenated, Kosher, and Halal. They are dispersible across a spectrum of hot and cold aqueous applications, and they provide a creamy mouth feel and improved functionality to products where liquid oils are not applicable.
Additionally, they are:
Available with dairy and non-dairy bases*
Available with MCTs for increased and sustainable energy supply
Used to promote post-workout recovery and enhance performance
Up to 24 month shelf life
*The carbohydrate and proteins in the bases of Nutri Sperse powders are specifically selected to provide nutritional functionality, such as, slow to fast energy production.
| Product Name | Base | Oil Type  |  % |
| --- | --- | --- | --- |
| Nutri Sperse MCT GA* | Gum Acacia | MCT | 70% |
| Nutri Sperse CAN 70 | Nonfat Dried Milk | Canola | 70% |
| Nutri Sperse HOS 70 ND | Non-GMO Maltodextrin | High Oleic Sunflower | 70% |
| Nutri Sperse HOS 73 | Buttermilk | High Oleic Sunflower | 73% |
| Nutri Sperse HOSO M | Maltodextrin | High Oleic Sunflower | 48% |
| Nutri Sperse MCT 50 | Non-GMO Maltodextrin | MCT | 50% |
| Nutri Sperse MCT 70 | Nonfat Dried Milk | MCT | 70% |
| Nutri Sperse MCT C8 | Nonfat Dried Milk | MCT | 70% |
*Developmental
CAPMUL®
Mono- and diglycerides improve the bioavailability of insoluble and/or impermeable active nutritional ingredients. For the functional beverage market these ingredients can also aid in the emulsification and solubilization of certain nutrient focused drinks. Functionalities include:
Solubilizer
Emulsifier/co-emulsifier
Carrier (vehicle)
Bioavailability enhancer
| | |
| --- | --- |
| Product Name | Chemical Name |
| Capmul 471 | Glyceryl caprylate/caprate |
| Capmul GMO-50 | Glyceryl Monooleate |
| Capmul GMS-50K | Glyceryl Monostearate |
Legal Disclaimer
Captex® and Capmul® are registered trademarks of ABITEC Corporation.  All information and statements given on this website are believed to be accurate at the time of publication. However, neither ABITEC Corporation nor any of their affiliates make any representations or warranty with respect thereto, including, but not limited to, any results obtained in the processing of the products by customers or any third party. All information and statements are intended for persons having the required skill and know-how and do not relieve the customer or user from verifying the suitability of information and statements given for a specific purpose prior to use of the products. It is entirely the obligation of the customer or user to comply with applicable laws and regulations, and also with all patent or other intellectual property rights of third parties. ABITEC CORPORATION EXPRESSELY DISCLAIMS ANY REPRESENTATIONS OR WARRANTIES OF ANY KIND, WHETHER EXPRESSED OR IMPLIED, AS TO THE ACCURACY, CURRENCY, COMPLETENESS AND/OR THE MERCHANTABILITY OR FITNESS OF A PARTICULAR PURPOSE OF ANY INFORMATION CONTAINED ON THIS WEBSITE AND/OR PRODUCT DESCRIBED OR PROMOTED ON THIS WEBSITE, INCLUDING WARRANTIES WITH RESPECT TO INFRINGEMENT OF ANY PATENT, COPYRIGHT, OR OTHER RIGHTS OF A THIRD PARTY. We reserve the right to change product specifications and specified properties of the products without prior notice. NUTRI SPERSE is a registered trademark of AB Mauri Food Inc.  Used under license.