Formulating high doses of sustained release BCS I drugs can be extremely challenging especially at the risk of compromising stability, or other vital parameters needed to develop a successful solution.  ABITEC's CAPMUL® GDB EP/NF (glyceryl dibehenate) is a versatile lipid for sustained release applications where these barriers can be overcome and at the advantage of improved overall performance.  In addition, it is prominently utilized in a range of other processes across the tableting space such as, direct compression, rapid mix granulation, and tablet lubrication.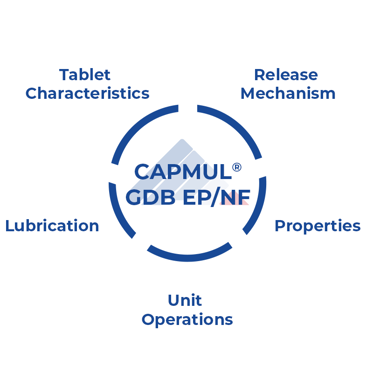 CAPMUL® GDB EP/NF Application Uses
Properties
Unit Operations
Release Mechanism
Tablet Characteristics
Lubrication
Legal Disclaimer
CAPMUL® is a trademark of ABITEC Corporation. All information and statements given on this website are believed to be accurate at the time of publication. However, neither ABITEC Corporation nor any of their affiliates make any representations or warranty with respect thereto, including, but not limited to, any results obtained in the processing of the products by customers or any third party. All information and statements are intended for persons having the required skill and know-how and do not relieve the customer or user from verifying the suitability of information and statements given for a specific purpose prior to use of the products. It is entirely the obligation of the customer or user to comply with applicable laws and regulations, and also with all patent or other intellectual property rights of third parties. ABITEC CORPORATION EXPRESSELY DISCLAIMS ANY REPRESENTATIONS OR WARRANTIES OF ANY KIND, WHETHER EXPRESSED OR IMPLIED, AS TO THE ACCURACY, CURRENCY, COMPLETENESS AND/OR THE MERCHANTABILITY OR FITNESS OF A PARTICULAR PURPOSE OF ANY INFORMATION CONTAINED ON THIS WEBSITE AND/OR PRODUCT DESCRIBED OR PROMOTED ON THIS WEBSITE, INCLUDING WARRANTIES WITH RESPECT TO INFRINGEMENT OF ANY PATENT, COPYRIGHT, OR OTHER RIGHTS OF A THIRD PARTY. We reserve the right to change product specifications and specified properties of the products without prior notice.